Schnecki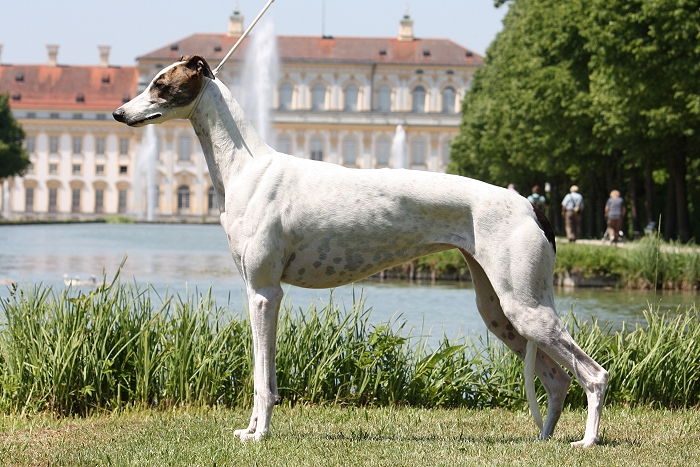 DE VDH AT Fin Ch Rumford Silvretta
June 2010 – May 2023
Schneckerl was a small girl, but the great sympathizer for our kennel. Vital, bright and lively! Her only litter will mark our kennel forever.
She lost the battle against a brain tumor, nearly 13 years old.
Frida

SBIS Int DE VDH AT CH Rumford Sovereign
June 2010 – August 2021
Frida was our pick of the litter, and had a very successful show career. As she developed a food allergy, we decided not to breed from her. She was a wonderful companion and the calming pole in our little Greyhound family.
She died due to a fulminant sepsis, a little over 11 years old.
Rhodes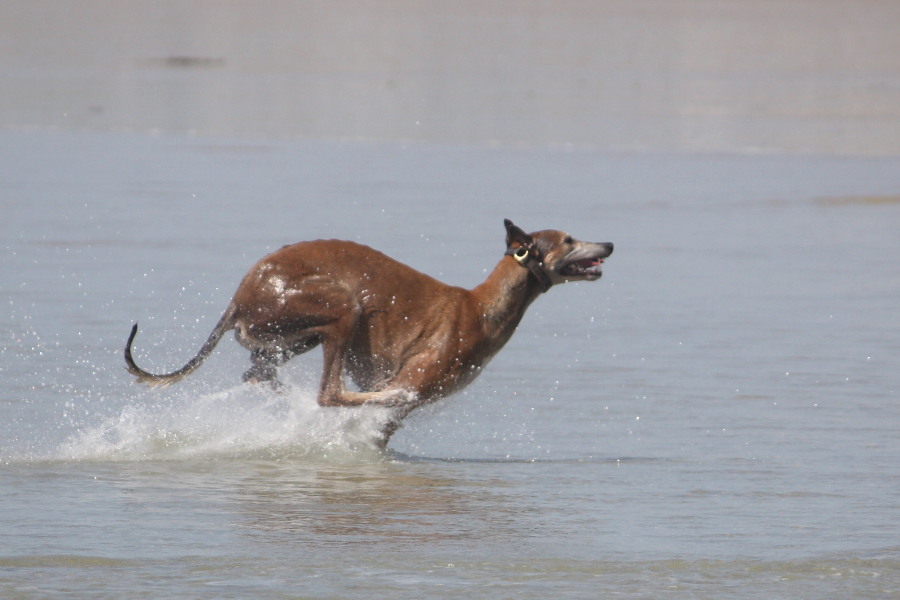 DE VDH AT CH Rumford Rockefeller
May 2009 – April 2016
Our keeper from our very first litter – a big boy with a golden heart, sovereign leader of the pack. We lost him unexpectedly due to thrombosis and cardial infarction.
Lalie

Telegram Singular Sensation
June 2008 – January 2020
Lalie was co-owned with good friends, but spent some holidays with us and had a litter at our kennel. Fit and agile up to her last day, we lost her unexpectedly due to a lung tumor.
Blissi
SBIS DE Ch Telegram Solitary Bliss for Wenonah
August 2007 – September 2012
Blissi was an unplanned addition to our kennel, but a much loved one…
She suffered from a severe congenital heart defect, but happily outlived the poor prognosis for years.
Dido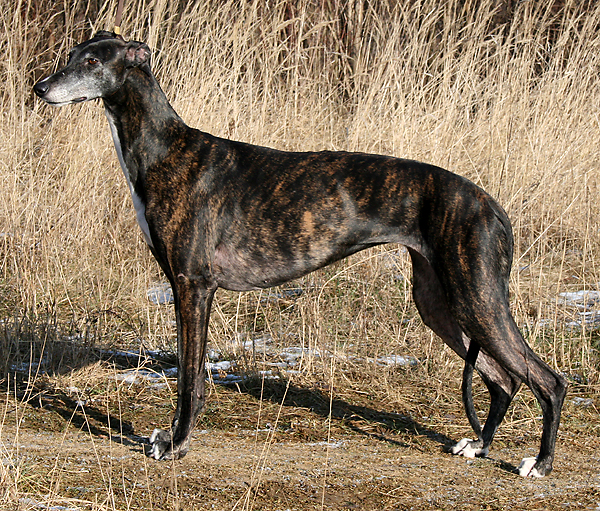 DE FIN CH Joasis Sand In My Shoes
October 2004 – February 2016
Our foundation bitch, mainly living with her breeder Mia Kutilainen in Finland, but spending 2 years with us in Munich.
Mika

SBIS Int DE VDH AT CH Joasis The Hunter
October 2004 – August 2008
The One and Only, our Once In A Lifetime dog. We lost him far too early due to a stroke.
Gucci

Sobers Gideon
December 2003 – August 2004
Perhaps it was a twist of fortune that we choose him as a puppy… The few months we were granted to live him were probably the worst in our lives, but he shouldn't die in vain. Thanks to him the terrible disease "Greyhound Hereditary Neuropathy" could be characterized and a genetic test could be developed. He saved lives – but not his own.
Vivian

Int DE VDH AT CH Rhetsgis Tell The World
June 2000 – June 2013
Our first Greyhound and the beginning of a never ending love. Vivi lived up to a high age as the grad old lady of our kennel – always making sure to get the softest sofa and to keep the younger ones in order.