We're happy to announce the next upcoming Rumford litter!

Mother-to-be is our outstanding irish coursing bitch "Lucala", who moved to our kennel two years ago after finishing her hare coursing career.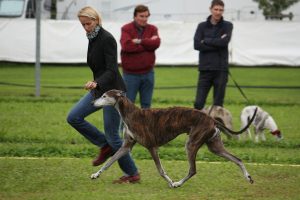 Rumford Rollercoaster                                            Rumford Ustinov
Due to Lucala's age and our limited breeding capacities, we decided to breed her to two different sires from our kennel, who – although descending from the same dam line – offer connections to very different bloodlines, which are nowadays quite underrepresented in European breeding.
With a little luck, this litter will include puppies from both fathers.

DE CH (DWZRV) Junior World Winner 2010, Veteran World Winner 2017 + 2018 Rumford Rollercoaster
"Nigel", over 13 years old today, was born in our first litter. He is a charming old gentleman, still with a sense of humor and a little mischief. His age and temperament are the best argument to use him for breeding, but his pedigree also offers a very interesting connection to old English and French bloodlines.
Pedigree

SBIS Int DE VDH AT Ch Rumford Ustinov
"Usti" comes very close to our ideal of a Show Greyhound. He is the only male from our U-litter, and the only son of our US import Mariki's Pequot of March Hare. He already sired 3 litters out of half&half and pure performance bitches, and we cannot wait to see his first offspring in our own kennel.
Pedigree